PROFILE AND PARTNERSHIP
DARK CHOCOLATE, ORANGE
Medium Espresso Roast
We are proud to introduce our newest core range coffee, from Finca Medina in Guatemala. Our team has been blown away by the versatility of this coffee - a true omni roast, it makes both a deep and flavourful espresso and also a fruity, refreshing filter coffee.
Our newest directly traded coffee, we have worked directly with Antonia & Jorge of Finca Medina to develop the style of coffee we want and manage the farm-to-roastery importing process ourselves. To learn more about how this coffee went from a Google search to landing at our roastery, check out our blog post From Finca Medina to Finca Denbies: The Story of our Newest Guatemalan Coffee.
We think all of our coffees taste great no matter how you prepare them, but here are our favourite brew methods for this coffee: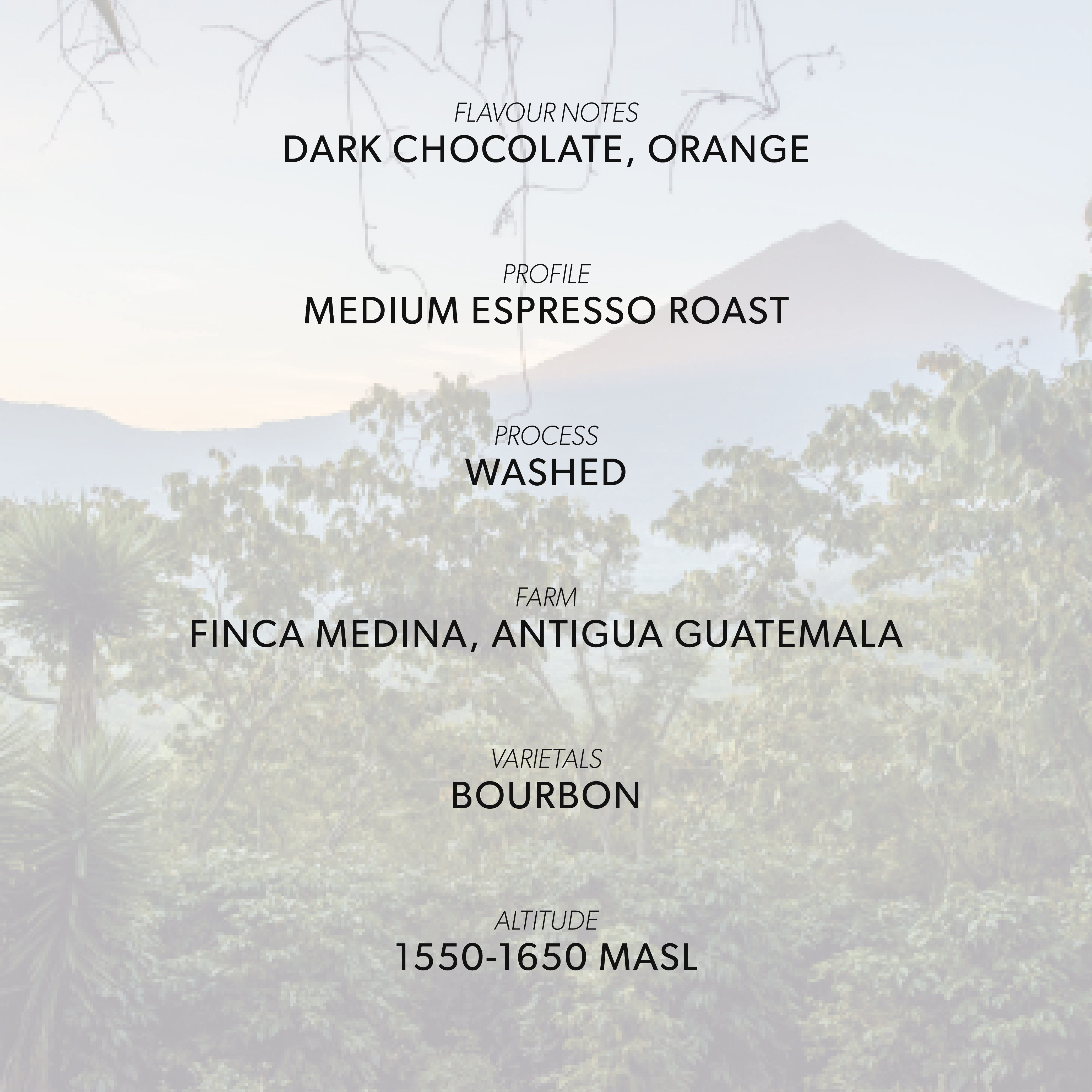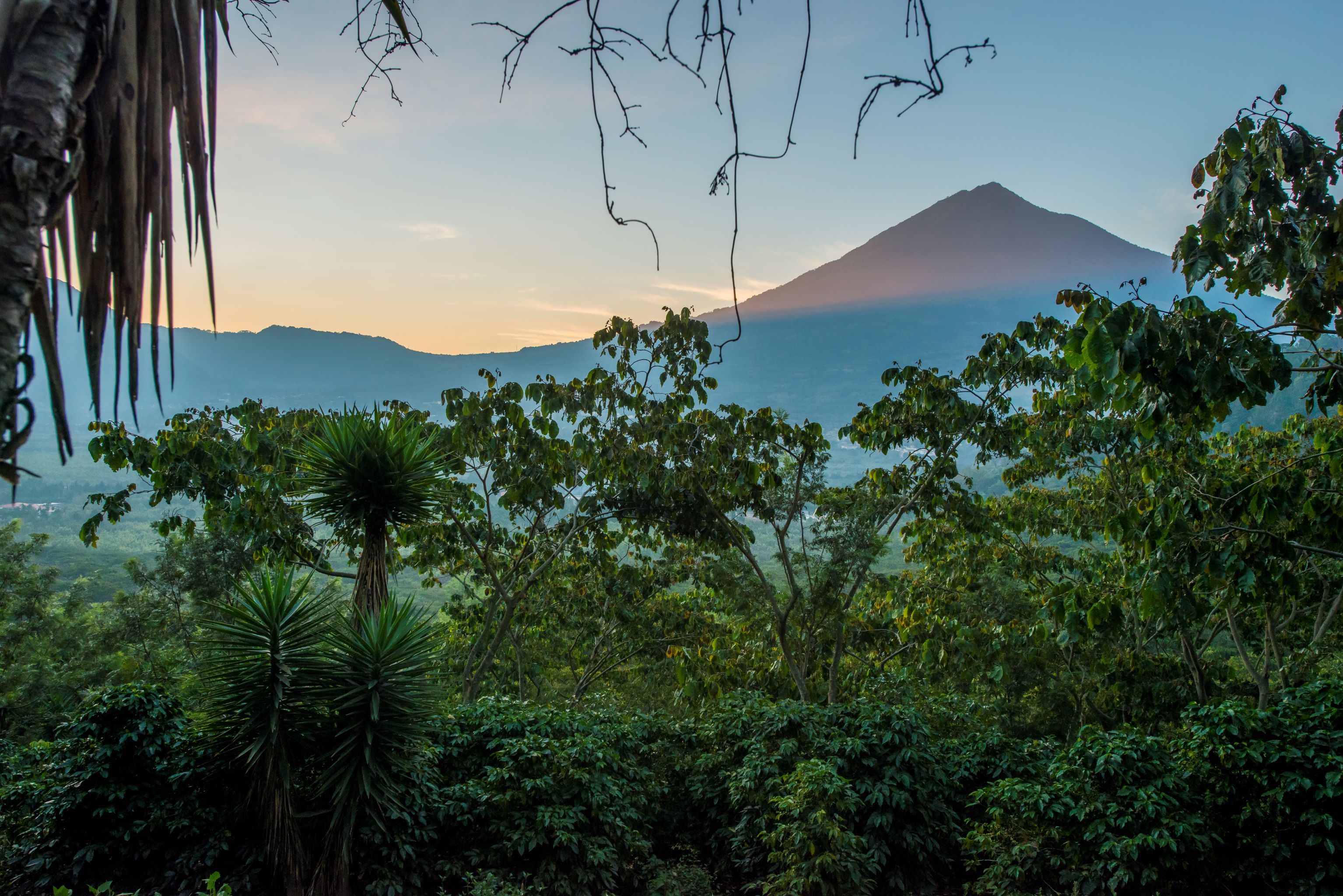 ABOUT FINCA MEDINA
Founded in 1842 with 100 hectares, Finca Medina is located in the foothills of the Agua volcano on the outskirts of Antigua Guatemala City.
Finca Medina combines the most modern technology with traditional techniques for the production of Antigua coffee, according to their sustainability commitment. Each coffee batch is evaluated in their laboratory to verify the traceability, quality, fragrance, aroma, flavour, balance, sweetness, and all the different cup profiles that make a great speciality coffee.
Coffee from the Antigua Guatemala region is internationally acclaimed for its unique characteristics: fragrance, floral aroma, light body and balance, mild notes of chocolate, good taste, and acidity levels.
This coffee is both UTZ and Rainforest Alliance certified. Finca Medina satisfies the standards for sustainable production in the environment, and has diverse initiatives directed towards the preservation of the rainforest. It also supports diverse programs focused on the wellbeing of the families that live and work in the farm, including free dental and health care for farmworkers and their families.
HISTORY OF COFFEE IN GUATEMALA
While coffee came to Guatemala in the late 18th century, as with much of the Central and South American colonies, cultivation of the crop began to gain steam in the 1860s, with the arrival of European immigrants who were encouraged by the Guatemalan government to establish plantations. Seeds and young coffee plants were distributed as encouragement, as the country's main export crop (indigo) had recently failed, leaving the population somewhat desperate to find an agricultural replacement. By the late 1800s, Guatemala was exporting more nearly 300 million pounds of coffee annually. Until 2011, it was among the five largest coffee-producing countries in the world, though in recent years it has been outperformed by Honduras.
A large percentage of Guatemala's population, and therefore also the coffee sector, identifies with one of more than 20 officially recognized indigenous groups, and most of the farmers are smallholders who are either working independently of one another, loosely associated by proximity and cultural ties, or formally affiliated in cooperative associations.
In 1960, coffee growers developed their own union, which has since become the national coffee institute Anacafé (Asosiación Nacional del Café), which is a research center, marketing agent, and financial organization that provides loans and offers support to growers throughout the various regions.
Starting in 2012 and lasting for several years, an outbreak of coffee-leaf rust proved a tremendous obstacle for coffee production in the country, reducing yields by as much as 25%, and causing the government to declare a state of emergency. Farmers attempted a combination of chemical and organic treatments, intensely targeted pruning, reduction of shade plants, and replacing susceptible varieties like Bourbon, Caturra, and Catuai with more leaf-rust-resistant ones. Anacafé, has been working closely with World Coffee Research on variety trials and research that will hopefully result in future protection and prevention of similar outbreaks, as well as provide more productive harvests for the smallholder farmers.