PROFILE AND PARTNERSHIP
PRALINE, HAZELNUT, SNICKERS
Espresso Roast / Medium
Our Brazil Signature Espresso is our headline act: Sweet, chocolatey and nutty... when combined with milk it tastes just like a melted Snickers bar! A more complex cup than our Americas House Espresso or Peru Classic Espresso, this well-balanced roast is enjoyed in cafés and homes alike.
We have been working with Fazenda Sertão for several years, with Dan visiting the farm in August 2022 to meet the team and cement our long-term relationship with this wonderful producer in the town of Carmo de Minas. Since 2023 we contribute an additional $0.10 per lb of coffee purchased to support local philanthropic project CriaCarmo.
We think all of our coffees taste great no matter how you prepare them, but here are our favourite brew methods for this coffee: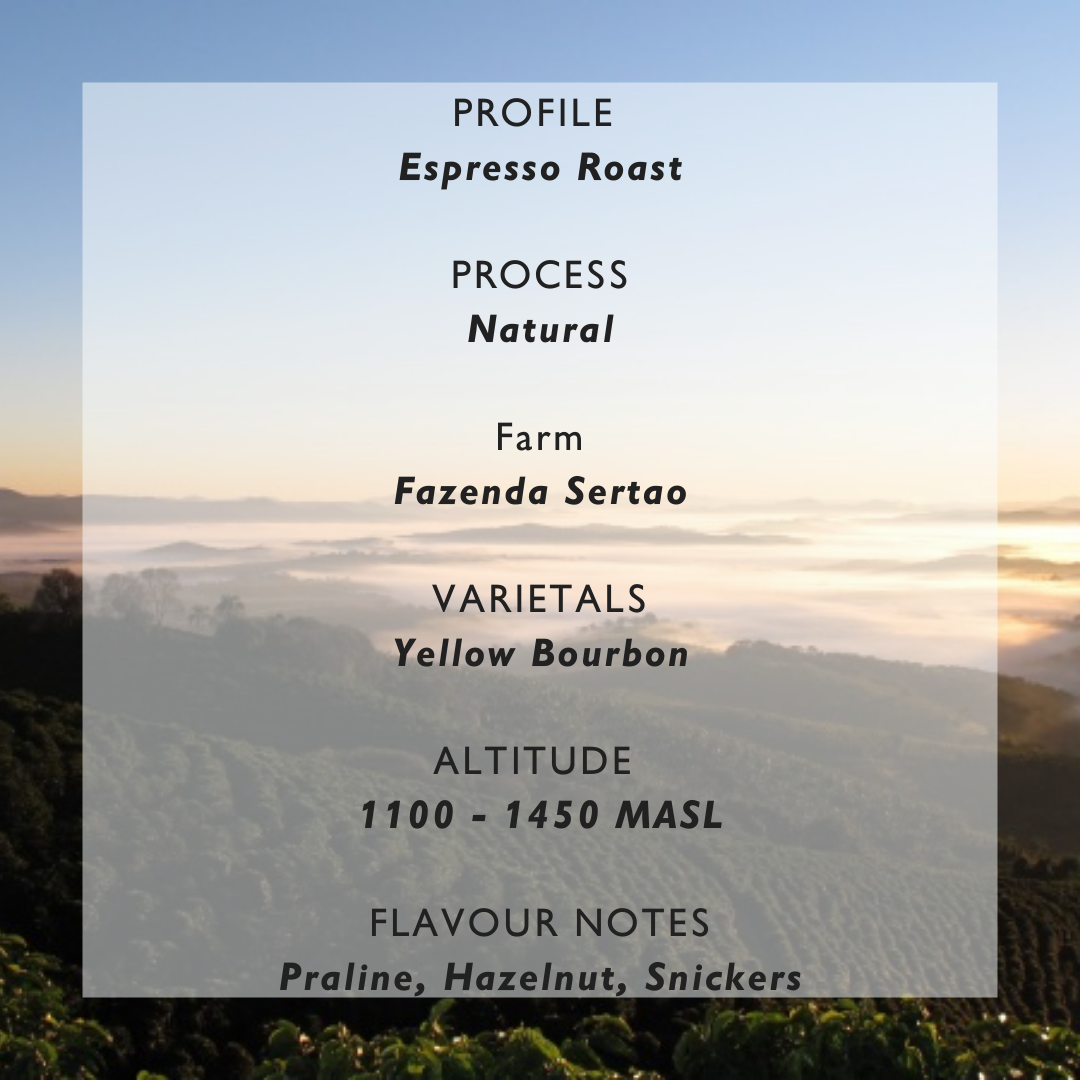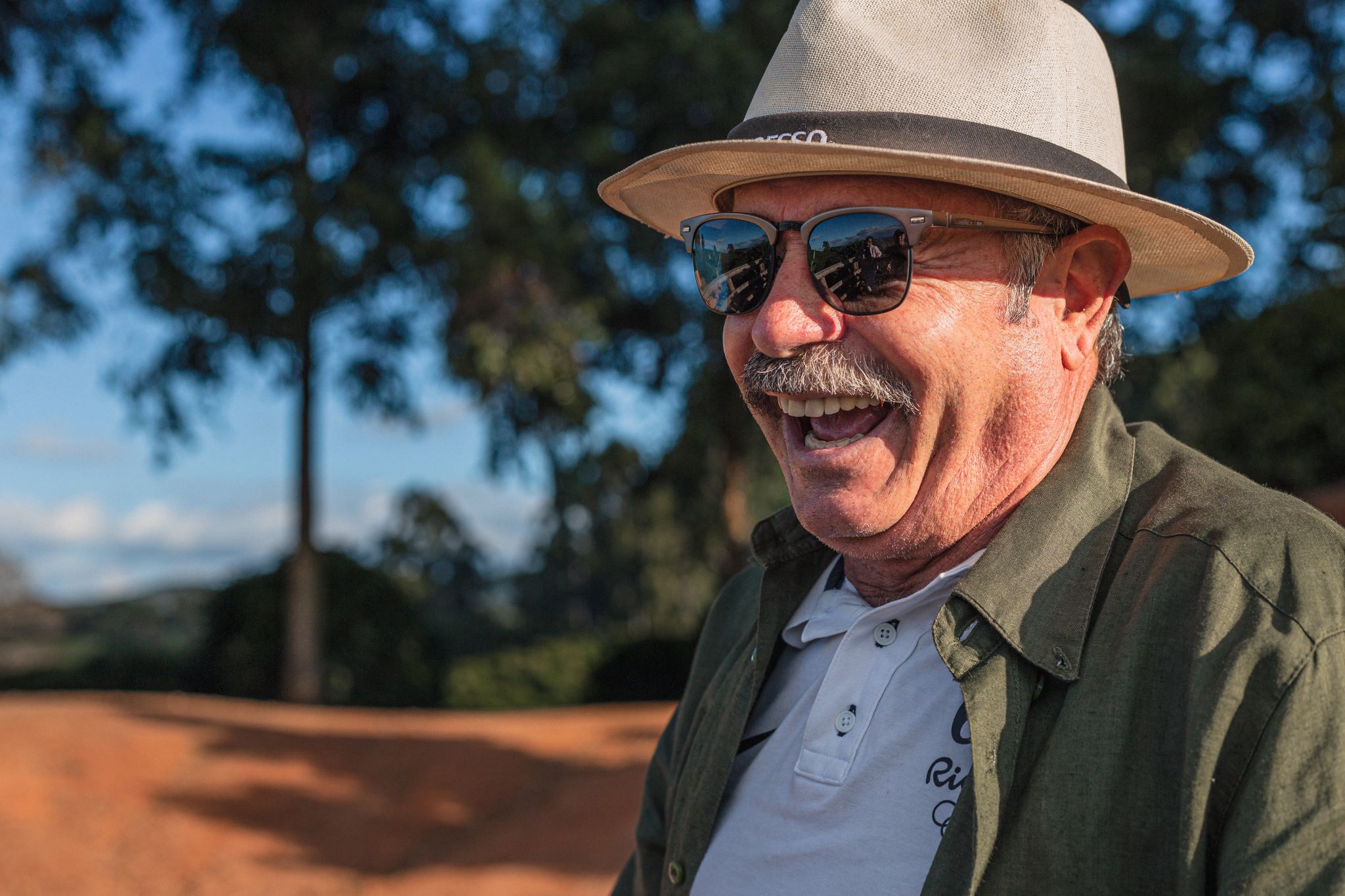 ABOUT FAZENDA SERTAO
Fazenda Sertão is an 850-hectare farm with 330 hectares planted in coffee of several varieties, including Red and Yellow Bourbon, Yellow Catucai, and Yellow Catuai. The farm also grows bananas and corn and is used to raise dairy livestock. This farm has a lovely story behind it: Among the first generation of coffee growers in this area was Jose Isidro Pereira, a dentist-turned–coffee producer who inherited Fazenda Sertão from his mother when she passed away—an incident that ended his dentistry career but put him on a path to coffee farming. In 1949, Jose Isidro met the "love of his life," Nazareth, who continues to run the farm her husband left in her care. Nazareth and Jose Isidro's children—Francisco, Luiz Paulo, Clycia, and Sandra—are also coffee producers, carrying on the family tradition.
To learn more about Fazenda Sertão, check our our blog post Spotlight On: Brazil Signature Espresso.
HISTORY OF COFFEE IN BRAZIL
It's hard to imagine the "beginnings" of coffee in Brazil, as the two things have become so synonymous. The first coffee plants were reportedly brought in the relatively early 18th century, spreading from the northern state of Pará in 1727 all the way down to Rio de Janeiro within 50 years. Initially, coffee was grown almost exclusively for domestic consumption by European colonists, but as demand for coffee began to increase in United States and on the European continent in the early-mid 19th century, coffee supplies elsewhere in the world started to decline: Major outbreaks of coffee-leaf rust practically decimated the coffee-growing powerhouses of Java and Ceylon, creating an opening for the burgeoning coffee industry in Central and South America. Brazil's size and the variety of its landscapes and microclimates showed incredible production potential, and its proximity to the United States made it an obvious and convenient export-import partner for the Western market.
In 1820, Brazil was already producing 30 percent of the world's coffee supply, but by 1920, it accounted for 80 percent of the global total.
Since the 19th century, the weather in Brazil has been one of the liveliest topics of discussion among traders and brokers, and a major deciding factor in the global market trends and pricing that affect the coffee-commodity market. Incidents of frost and heavy rains have caused coffee yields to wax and wane over the past few decades, but the country is holding strong as one of the two largest coffee producers annually, along with Colombia.
One of the other interesting things Brazil has contributed to coffee worldwide is the number of varieties, mutant-hybrids, and cultivars that have sprung from here, either spontaneously or by laboratory creation. Caturra (a dwarf mutation of Bourbon variety), Maragogype (an oversize Typica derivative), and Mundo Novo (a Bourbon-Typica that is also a parent plant of Catuai, developed by Brazilian agro-scientists) are only a few of the seemingly countless coffee types that originated in Brazil and, now, spread among coffee-growing countries everywhere.