BEAN TO CUP COFFEE EXPERIENCE
Book or gift one of our popular bean to cup coffee experiences at our roastery on Denbies Wine Estate in the Surrey Hills.

Nearest train station: Dorking (Main) - 15 minutes walk
Nearest bus stop: North Downs Way (465 London Bus) - 5 minutes walk
Free car park, secure bicycle parking, and step-free access throughout.
The Bean to Cup Coffee Experience
Throughout the morning, we'll take you on a tour from bean to cup whilst tasting four different coffees brewed in different ways.
After a welcome coffee, we'll talk you through the process of coffee growing and production, exploring the many environmental and human factors that go into making your cup of coffee taste the way it does. We'll also explain the skills behind how coffee is roasted, alongside a sample roast.
Next we'll learn about the art of brewing and prepare a V60 filter coffee together so you can get the best out of your coffee at home.
The final part of the experience will test your tastebuds! You'll take part in a coffee cupping session (a coffee slurping session, sort of like wine tasting) – this will be a blind tasting with all four coffees you've already tried so you can see if you can pick out which coffee is which!
All participants receive a goodie bag containing a coffee of their choice from the day, plus discounts and more.
What we'll provide
The tour will take place in our characterful coffee roastery at Denbies Wine Estate, one of the best-known vineyards in the UK. A minimum of four coffees will be brewed via different methods throughout the tour, and a small snack will be provided to soak up the caffeine!
Our roastery is step-free, fully wheelchair accessible, and can be reached either by public transport (Dorking station is a 15 minutes walk from us, and takes under an hour from central London) or by bicycle/vehicle with plenty of free parking. To learn more about our roastery & shop, check out our Visit Us page.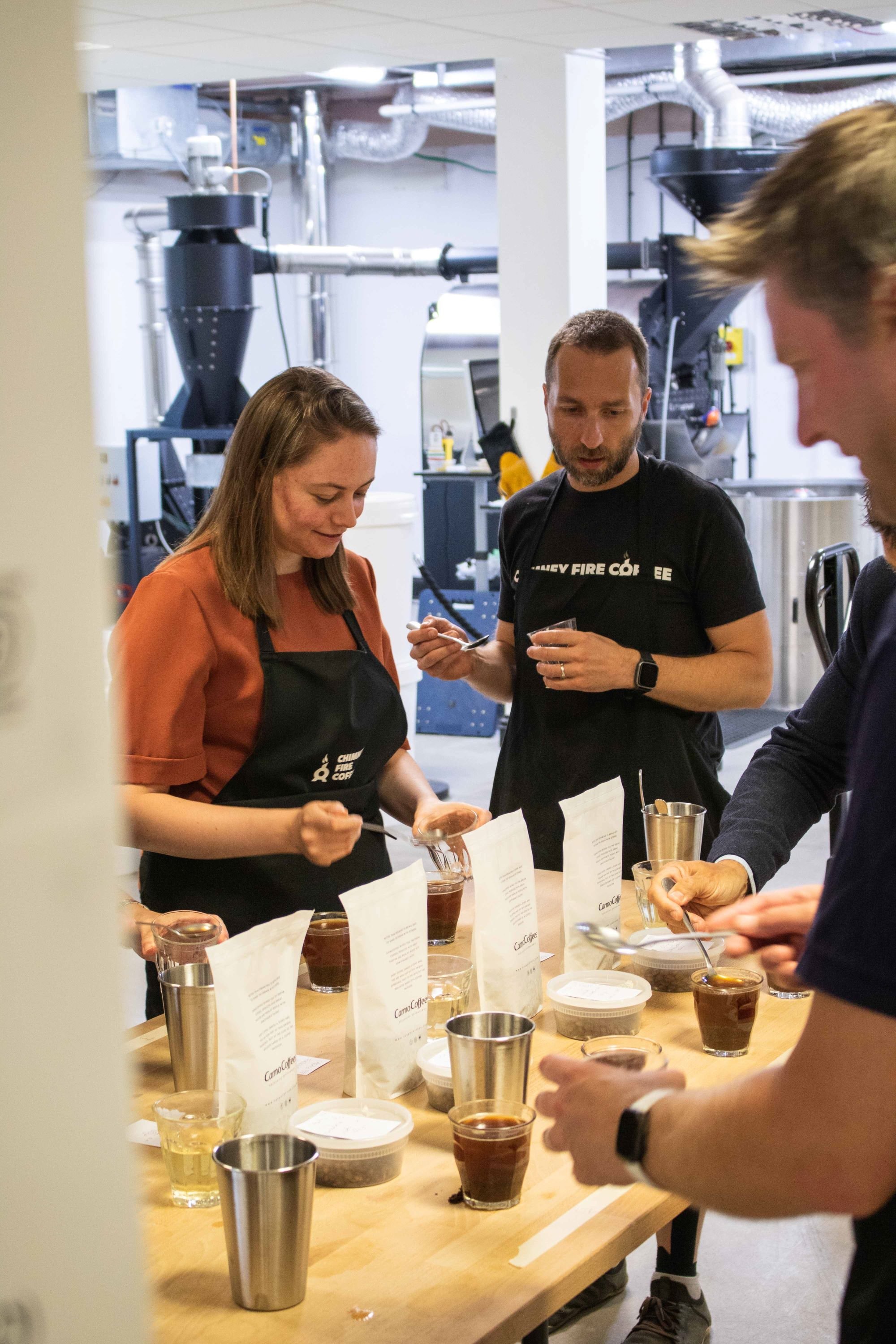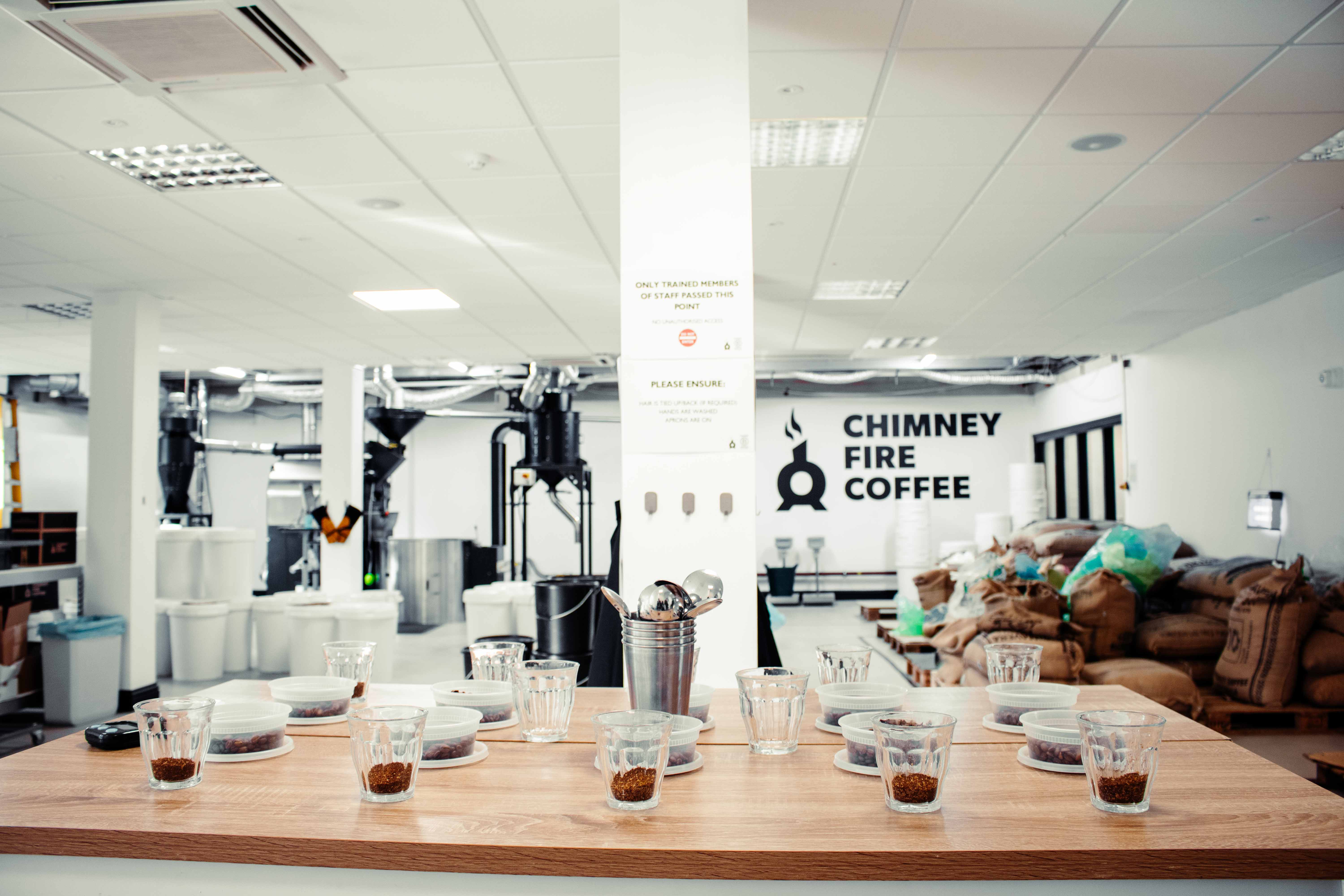 Booking details
Location: Chimney Fire Coffee, Denbies Wine Estate, Dorking, Surrey, RH5 6AA
Session time: 10am - Noon
Maximum No. Guests per session: 8
Price: £60pp
Our coffee experiences are typically held once a week on a Saturday and are usually scheduled in up to 3 months in advance. Select your booking date or the 'gift voucher' if you'd like to give a flexible booking, and we will send you the voucher via email. Please get in touch if you can't see a suitable date, and we'll try to make another date available.
Private and corporate sessions are available starting at £250+VAT. Please contact us for more information.
Please see our Refund Policy for full terms & conditions.
Reviews
"Great stories, tastes, smells which can be relived at home with the bag of coffee of your choice included. A must visit!" - FINLAY, GOOGLE
"Always wanted to try a Bean to cup experience. Started off great with a coffee of our choice and an open chat with Dan and Nathan (both great guys). Covered a lot on the day from the beans themselves and the differences between what's out there and what Chimney Fire stock to how to prepare the grounds in different ways. The main part of the day was the cupping where we got to smell and taste 4 different bean selections - very interesting to learn the different nuances." HEATH, REVIEWS.IO