PROFILE AND PARTNERSHIP
CHOCOLATE, CREAMY, VANILLA
Omni Roast / Medium
This like-for-like replacement for our popular Finca La Esmeralda coffee is also grown in the hills around San Antonio Huista, in the remote Huehuetenango region of western Guatemala.
We are continuing to work with the same exporter, and due to the similar growing conditions to La Esmeralda you can expect a similar tasting coffee: deliciously creamy as an espresso yet delicate and fruity as a filter - an excellent all-rounder with a lingering sweet finish. Thanks to our customers and The Independent voting our Guatemala as one of the best coffees in the UK, we have increased the amount we have bought from this region for the past three years.
We think all of our coffees taste great no matter how you prepare them, but here are our favourite brew methods for this coffee: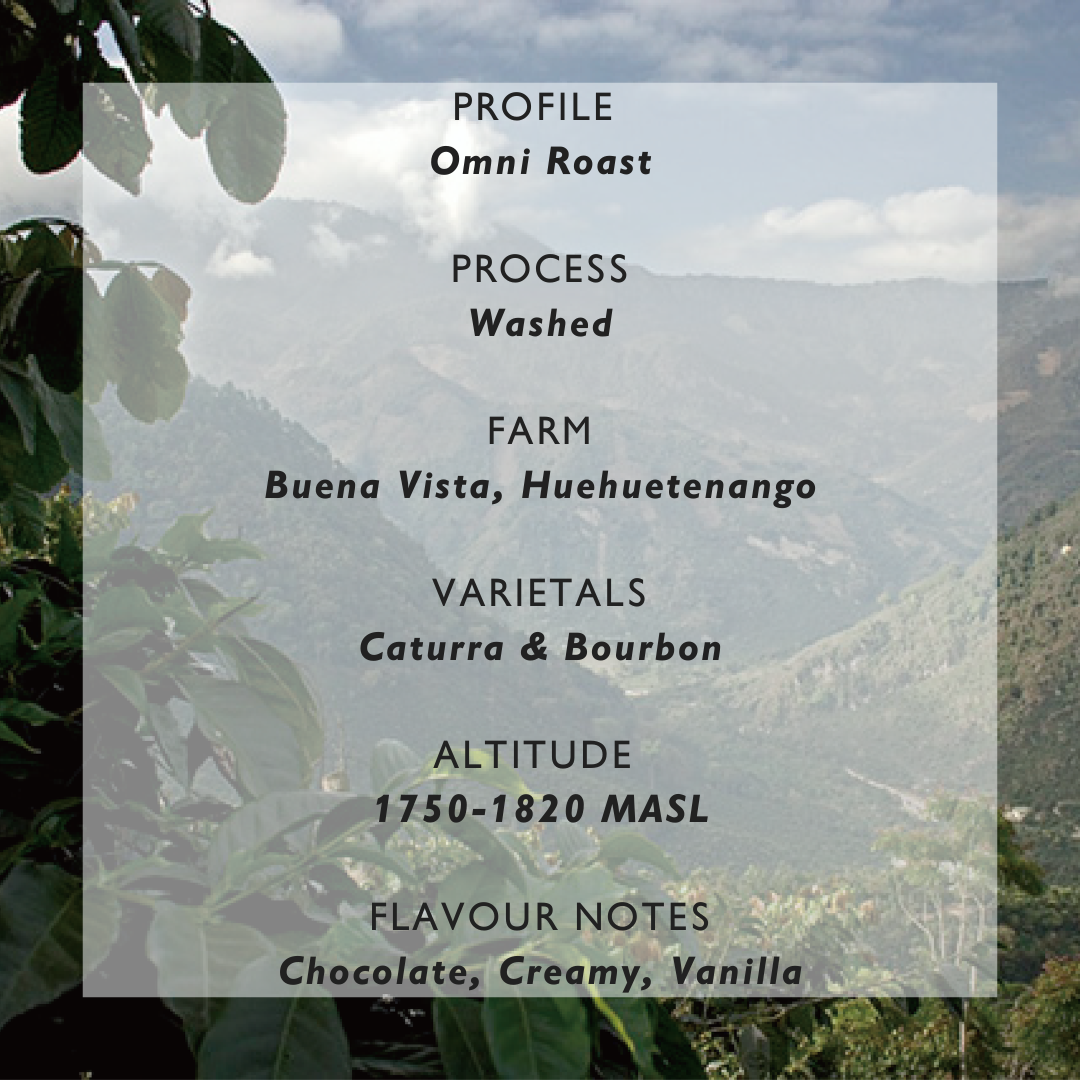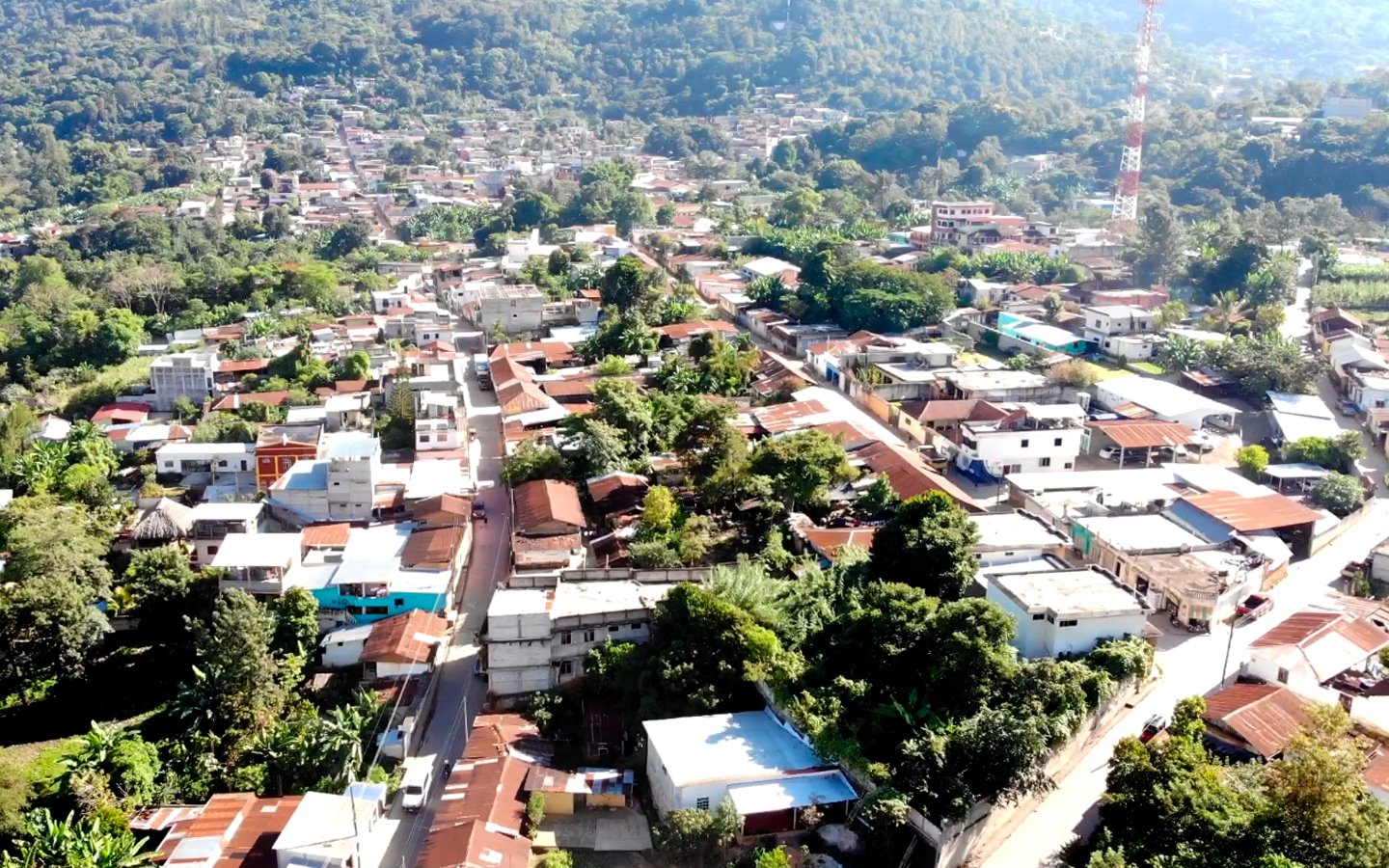 ABOUT BUENA VISTA
Andres Godolfredo Cano is a second-generation coffee producer in the town of San Antonio Huista in Huehuetenango. During the harvest, he makes sure that only the ripest cherries are picked and de-pulped the same day of the picking. Andres ferments his coffee with water for 36 hours. After the monitored fermentation process, the coffee is washed and laid on patios to dry in the sun for four days. The coffee is then stored in a cool and dry warehouse till it is dry-milled and exported.
The name of Andres' farm is called Buena Vista, "A good view". He named the farm due to its location at the highest point in the mountains of San Antonio Huista. "Getting there takes 2 hours and 40 minutes walking, and in the morning the view is spectacular with the rising sun", tells Andres. Andres was initially a vegetable farmer, but 10 years ago he sold his land and was able to buy this farm that he now takes care of. "It has been a dream come true to work and be part of the coffee market", explains Andres.
Photo: Facebook
HISTORY OF COFFEE IN GUATEMALA
While coffee came to Guatemala in the late 18th century, as with much of the Central and South American colonies, cultivation of the crop began to gain steam in the 1860s, with the arrival of European immigrants who were encouraged by the Guatemalan government to establish plantations. Seeds and young coffee plants were distributed as encouragement, as the country's main export crop (indigo) had recently failed, leaving the population somewhat desperate to find an agricultural replacement. By the late 1800s, Guatemala was exporting more nearly 300 million pounds of coffee annually. Until 2011, it was among the five largest coffee-producing countries in the world, though in recent years it has been outperformed by Honduras.
A large percentage of Guatemala's population, and therefore also the coffee sector, identifies with one of more than 20 officially recognized indigenous groups, and most of the farmers are smallholders who are either working independently of one another, loosely associated by proximity and cultural ties, or formally affiliated in cooperative associations.
In 1960, coffee growers developed their own union, which has since become the national coffee institute Anacafé (Asosiación Nacional del Café), which is a research center, marketing agent, and financial organization that provides loans and offers support to growers throughout the various regions.
Starting in 2012 and lasting for several years, an outbreak of coffee-leaf rust proved a tremendous obstacle for coffee production in the country, reducing yields by as much as 25%, and causing the government to declare a state of emergency. Farmers attempted a combination of chemical and organic treatments, intensely targeted pruning, reduction of shade plants, and replacing susceptible varieties like Bourbon, Caturra, and Catuai with more leaf-rust-resistant ones. Anacafé, has been working closely with World Coffee Research on variety trials and research that will hopefully result in future protection and prevention of similar outbreaks, as well as provide more productive harvests for the smallholder farmers.