12 DAYS OF DISCOVERY 2022 - CHRISTMAS COFFEE GIFT BOX
Contains 12x70g bags of coffee, plus a guide containing more information about this year's Discovery selection.
**Limited Supply**
2022 Discovery Coffee Series
This is a specially curated collection of coffees from our 2022 Discovery Coffee range. Each coffee has been carefully selected by our roastery team to satisfy different tastes, and introduce a new and interesting coffee from around the world - be that a new origin or region that we hadn't sourced from before, a new process or varietal, or something seasonal with a unique flavour profile.
From Malawi to India, we hope you enjoy these coffees as much as we enjoyed sourcing and roasting them. Head to our blog if you'd like to learn more about these coffees and the themes highlighted in this curated collection.
Re-Cycle - £1 from every box goes to charity
Re-Cycle are a small charity who refurbish donated bicycles from the UK, working with local partners to distribute them to rural communities in Africa. £1 from every 12 Days of Discovery Christmas Gift Pack will be donated to the charity, who have helped increase school attendance by 30% and donated over 112,000 bikes, with 98% still operational after 3 years. Find out more about our work with Re-Cycle on our blog.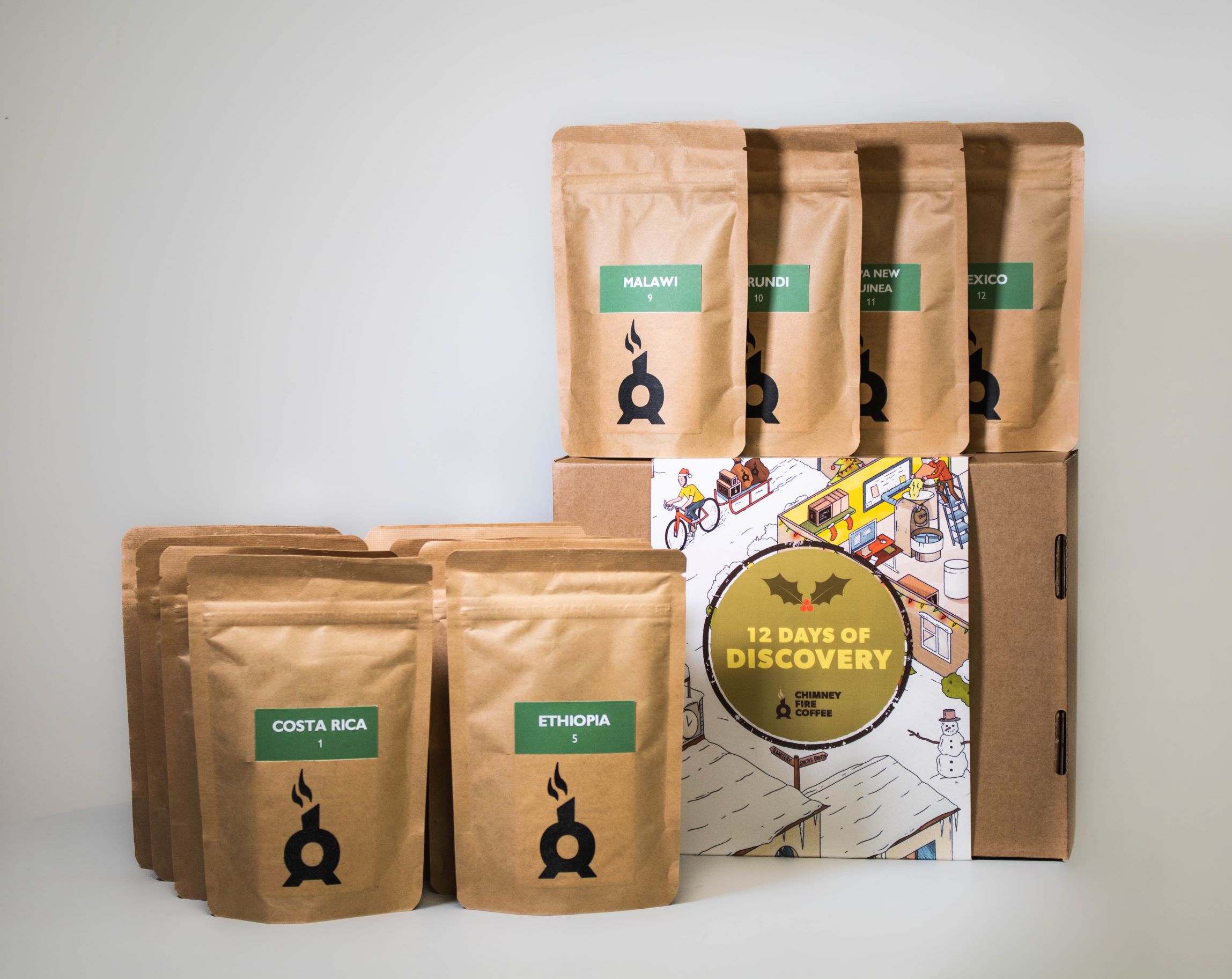 2022 Discovery Coffee Collection
1. January Discovery Coffee - Costa Rica - Las Palomas
Blood Orange, Grapefruit, Peach
2. February Discovery Coffee - China - Kaku
Butterscotch, Sweet Aromatics, Berry
3. March Discovery Coffee - Zambia - Kateshi Estate
Sweet, Orange, Marmalade
4. April Discovery Coffee - Nicaragua - Apanás
Raspberry Jam, Stewed Apple, Brown Sugar
5. May Discovery Coffee - Ethiopia - Aricha Yirgacheffe
Blueberry, Lavender, Bubblegum
6. June Discovery Coffee - India - Monsoon Malabar
Hickory Wood, Dark Chocolate, Clove
7. July Discovery Coffee - Peru - Elevi Rufasto
Raspberry, Lemonade, Milk Chocolate
8. August Discovery Coffee - Brazil - Fazenda Mió
Daim Bar, Dates, Dulcet
9. September Discovery Coffee - Malawi - Sable Farm
Ginger Nut, Peach, Green Tea
10. October Discovery Coffee - Burundi - Masenga Hill
Juicy, Dried Fruits, Balanced
11. November Discovery Coffee - Papua New Guinea - Chimbu Highlands
Blackcurrant Squash, Brown Sugar, Mellow
12. December Discovery Coffee - Mexico - Los Milagros
Light Fudge, Milk Chocolate, Sweet